Changzhou Taihu Lake Bay Tourist Resort is located on the shore of the beautiful Taihu Lake. The location of the resort is ideal, and finding transportation there is convenient. Taihu Lake is about 45 kilometers away from the center of Changzhou, only 25 kilometers away from the center of Wuxi, and within 2 hours by car from Shanghai, Nanjing and Hangzhou. The resort has an area of more than 30 square kilometers, a central facility area of 18.6 square kilometers, and a lake shoreline of approximately 7.8 kilometers. Currently, there are two national 4A-level scenic spots ——CC Joyland and Chinese Filial Piety Park, and the premier Taihu RV camping base in East China——Taihu Lake Bay Camping Valley.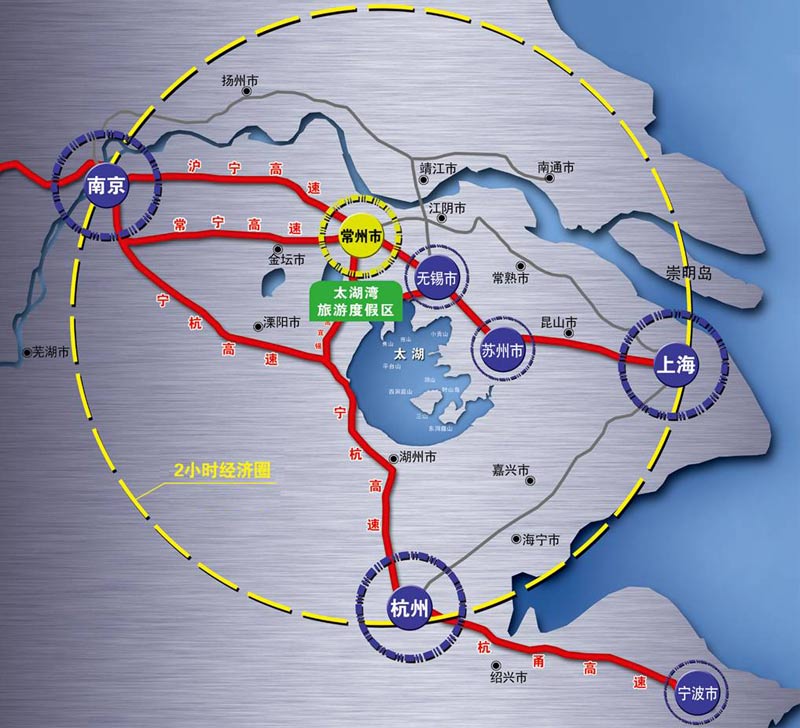 Changzhou Taihu Lake Bay Tourist Resort is located at the southeast side of Changzhou and northwest side of Taihu Lake. It has a subtropical monsoon climate with four distinct seasons as well as plenty of rain and heat. It boasts a unique natural environment. This area mainly consists of low mountains and hills. The lake and hills set each other off beautifully. It is said of the area, "the mountains are not high but beautiful, the water is not deep but far away." The air quality here is better than the national standard. There are more than 100 species of green plants, more than 70 species of birds, and there is a natural "oxygen bar". Special local products such as Taihu Lake's blanquillo, Taihu Three White (called Taihu Sanbai), Yanghu peach, Yanghu New Moon green tea, and other specialties have long been famous.
Taihu Lake Bay has many culturally and historically significant buildings, including the Relics of Helv City as the capital of Wu in Chunqiu, Lu'e Temple from the Jin Dynasty, and Guishan Academy from the Song Dynasty. The former residence of Mr. Wu Zhihui, one of the World's 100 Cultural Celebrities during the 20th Century as named by the UN, is also located here.
North Entrance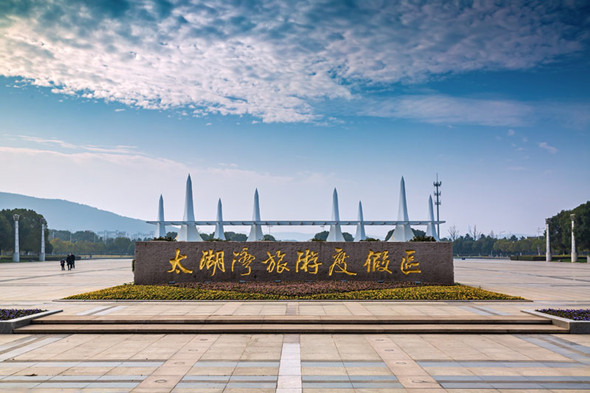 West Entrance
Northwest Entrance
East Entrance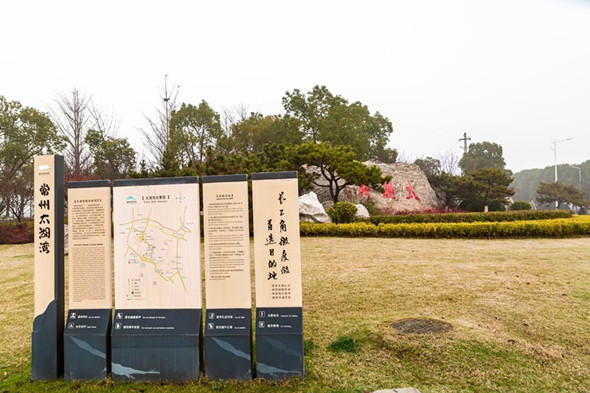 Changzhou Taihu Lake Bay Tourist Resort was established in 2002 and was rated one of the top ten National Tourist Name Cards, which are the top ten tourist destinations, in 2007. In 2012, it was upgraded to a provincial tourist resort. After more than ten years of planning and development, it has won many honorary titles such as National Dragon Boat Race Base, National Digital Entertainment Industry Demonstration Base, National E-sports Base, China Creative Industry Best Park Award, Asian Golden Travel Award, and more.
In recent years, Changzhou Taihu Lake Bay Tourist Resort started innovative cooperation with other local businesses. The Changzhou Taihu Lake Bay Tourist Resort has developed a "tourism+" industry, combining sports, culture, countryside, and other elements. Through publicity and marketing, the Resort has successfully hosted influential sports and wellness events; introducing copyrighted activities, such as the One Thousand People Health Walk, CC Play Run, etc.; and have attracted many tourists to participate in other activities, improving the visibility and reputation of the resort.
Changzhou Taihu Lake Bay Tourist Resort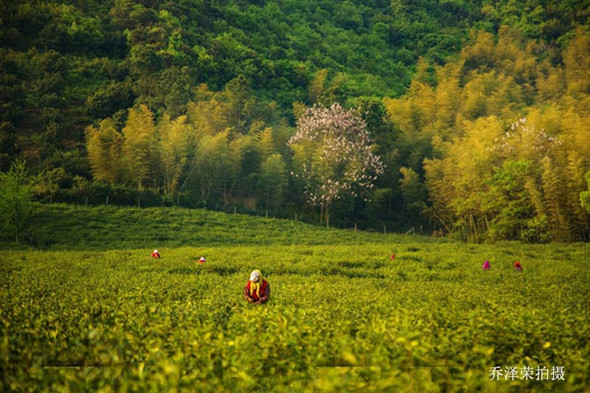 Changzhou Taihu Lake Bay Tourist Resort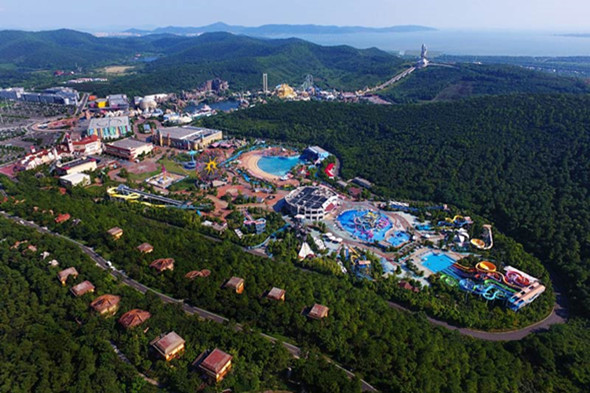 Taihu Lake Bay has developed local rural tourism resources by beautifying the countryside. The Changzhou Taihu Lake Bay Tourist Resort has fully integrated the farming experience into tourism through folk culture appreciation and health in rural products. Taihu Lake Bay improves the comprehensive service capacity of the entire resort to give visitors a better experience.
In addition, the Resort has started two different initiatives to attract more visitors, including relaxing work conferences and a service plan for retirees. It continually supports public service systems, further expanding the influence of the Taihu Lake Bay brand, showing Taihu Lake Bay's unique charm both to surrounding cities and the rest of the country.
At present, the central facility area of Changzhou Taihu Lake Bay Tourist Resort consists of CC Joyland, Chinese Filial Piety Park and Taihu Lake Bay Camping Valley. The Resort has an all-in-one tourism offering. In the resort, tourists can enter a fantasy world, experience the culture of filial piety, and enjoy the landscape of Taihu Lake while relaxing in rural farms. The Resort strives to become a micro-travel resort in the Yangtze River Delta.